Omega Speedmaster Dark Side of The Moon Apollo 8 indica già nel suo nome tutte le cose che lo rendono speciale: in primis l'appartenenza alla linea Speedmaster e poi il fatto che si tratti di una referenza celebrativa.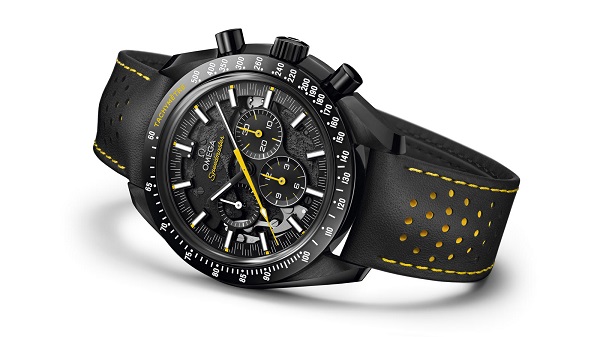 Nello specifico si tratta di un modello che omaggia il 50° anniversario della missione Apollo 8 del 1968, quello che è stato il primo viaggio in assoluto verso la luna. Già partendo dall'estetica è possibile immediatamente notare la raffinatezza del quadrante scheletrato che mostra ad un occhio attento il movimento, lavorato con la tecnica dell'ablazione laser per decorare con precisione i ponti e la platina con immagini realistiche della superficie lunare. Basterebbe solo questo per definire unico il modello. Ancor più interessante? L'Omega Speedmaster Dark Side of The Moon Apollo 8, al pari del nostro satellite, ha un movimento a due facce uniche: la parte che si affaccia sul quadrante è più chiara e riproduce la vista che abbiamo noi della Luna dalla Terra, mentre l'altra è più scura.
L'orologio è stato realizzato in ceramica nera e presenta in ottimo contrasto lancette cronografiche verniciate in giallo, con scala tachimetrica e corona trattate con SuperLuminova. I colori nero e giallo sono ripresi anche dal cinturino in pelle, adornato da una sezione in gomma gialla nella parte centrale. Sul fondello sono incise le parole "We'll see you on the other side", quelle pronunciate da Jim Lovell a bordo della missione Apollo 8 all'inizio dell'esplorazione del lato oscuro della luna. All'interno della cassa vi è il  calibro 1861, ora denominato 1869 per celebrare anche la successiva data dell'allunaggio.